Depending on where you live, snakes can be a big issue. While these slithering reptiles are highly beneficial, they can also be quite venomous.
Even if you're not dealing with venomous snakes, you may be up against a snake phobia.
Whatever your snake situation is, we have a solution. That's right, folks. Today, we're talking about snake guards.
Most of us know about snake repellents, sprays, and traps, but there are other ways you can protect yourself and your loved ones from snakes when you're on the move or playing in your yard.
But which snake guards are the best and how do you decide which type of snake guards you need?
That's what we're going to find out. Let's get started!
What Are Snake Guards And How Do They Work?

Typically, snake guards come in the form of boots or chaps, but some people consider snake guards to be fencing or mesh you can put around your home.
When you look up snake guards, you'll likely come across a few varieties of snake protectants. In today's article, we are specifically covering two types of snake guards. These two types include snake guards for homes and gardens and snake guards that come in the form of boots, chaps or leg wraps to protect you when you're out and about hiking, camping, fishing, or playing.
How Do Snake Guards For Homes And Gardens Work?
Snake guards that protect your property and garden often come in the form of fencing or mesh that is designed to create a barrier between your property line and anything beyond it.
There are pros and cons to using snake guards that come in the form of fencing. Many of these snake guards are netted or linked in design, and while the openings are often small, they are not always going to be small enough to keep infant snakes from getting through.
This is especially problematic if you live in areas where venomous snakes are prevalent. Infant snakes are often considered more dangerous than their adult counterparts as they cannot control how much venom is released in their bite.
For this reason, snake guards of this form are not always foolproof and do not always work 100% of the time.
However, along with investing in snake guards you can purchase other snake repellents and traps to help ensure these products are the most effective they can be.
How Do Snake Guard Boots, Chaps, Or Leg Wraps Work?
Investing in snake repellents for your home and garden can help protect you and your family from these sometimes dangerous reptiles, but how do you protect yourself from snakes when you are out and about, enjoying nature?
Some of the most common types of snake guards are boots, wraps, or chaps that you can wear to protect your lower extremities from snake bites.
These products are made of material that is too dense for snake fangs to penetrate. This material is often a combination of materials like leather, rubber, polyurethane, and neoprene.
When looking for the best snake guards, look for guards that are tall enough that they at least go over your ankle, though they should generally cover your calves and shins. We also suggest looking for snake guards that provide 360 degrees of protection and are specifically designed to protect against venomous snake bites.
Last, we recommend looking into snake guards that have plenty of good reviews and are even recommended by experts.
Are you wondering which types of snake guards would be best for you? We have listed 10 of our favorite snake guards as recommended by experts for both homes and gardens, as well as for personal use.
Let's take a look.
The Best Snake Guards and Snake Mesh For Homes and Gardens

Though snakes are more common outdoors, they can get into our homes, garages, and basements.
As we discussed above, there are different forms of snake guards designed to protect your home and garden from snakes entering. These types of snake guards are especially ideal if you live in an area that borders a field or greenbelt, or if you live in an area that is known to be heavily inhabited by snakes.
Remember, not all of the below snake guards will work 100% of the time, and if you live in a region that is riddled with a number of venomous snakes, it's wise to look into snake repellents and other products you can use to help keep these snakes at bay as well.
With that noted, let's take a look at some of the top-most recommended snake guards and snake mesh, according to consumers and experts alike.
1/4th Inch Wire Mesh
If you're on the hunt for snake guards that act as a barrier around your home, we suggest investing in the above mesh by Amagabeli. This hardware cloth is as tall as 36 inches and is made of 1/4th inch galvanized mesh wire.
As we will discuss further down, when you are looking for snake guards in the form of fencing to protect your property or garden, it's important not to use snake mesh wire that is larger than 1/4th of an inch.
Not only does this type of mesh work well for keeping snakes from getting too close for comfort, but it can also protect your garden plants from pests like raccoons, rabbits, gophers, and possums when installed correctly.
QueenBird Copper Mesh
Another type of snake guard you might be interested in would be mesh that works not only as a fence but also as a filler for holes, cracks, crevices, or vulnerabilities around your home.
In the winter, many species of snakes are known to hibernate in large groups. Some snakes choose to hibernate below decks, in crawl spaces, or in other areas that are warm and dry around or in homes or in or near garden sheds.
The above QueenBird Copper Mesh works to plug holes or even serves as a fence to help protect vulnerabilities around the home or block possible entrance points where snakes or mice could gain entry.
The Best Snake Guards For Hiking, Hunting, Fishing, and Camping

The best snake guards for outdoor wear are made of a particular type of material or a combination of materials.
If you're the outdoorsy type, you likely already know what you're up against when it comes to Mother Nature. Snake guards can help protect you from a variety of pests in the great outdoors. From insects to snake bites, snake guards are a must-have for any avid hiker, hunter, fisher, or camper. Snake guards are also often waterproof, so they can even help protect you from the elements.
What we like most about these types of snake guards is that you can purchase them in different sizes and different styles.
Here are some of our favorite snake guards for those of you who enjoy exploring and playing outside.
GearOZ Snake Gaiters
Snake guards go by a few different names. Also known as snake gaiters or snake chaps, these products help protect against a variety of venomous and non-venomous snakes.
The above snake guards are waterproof and adjustable and are designed for use when partaking in outdoor activities including hunting, fishing, hiking, farming, and more.
They come in three color patterns including black, green, and camo, and are made of 10000D Oxford fabric. The boots are also waterproof, with a specific note that they are especially comfortable.
Some snake guards can be stiff, but these boots include adjustable strings and clasps that allow them to breathe and fit loose or more snug depending on our desire.
Primal Gear Snake Guards
Another product we recommend when looking for classic snake guards are these boots made by Primal Gear. These snake guards help protect against snake bites on the lower legs and are waterproof, made with 1000 denier Cordura fabric. This fabric is lined with polypropylene panels for extra protection and includes clasps that are adjustable.
While these snake guards can be adjusted, they are best for calf sizes ranging from 13 inches to 19 inches. They come in two colors including tan and army green.
U.S. Solid Snake Gaiters
If you would prefer not to purchase boots when looking for protective snake guards, you always have the option of purchasing snake guards in the form of chaps. These snake guards above are designed to fit over your boots or shoes and protect your lower legs from snake bites, sharp objects, and the elements.
These snake guards are made with a layered hydrophobic material that not only helps protect against snake bites but also absorbs any venom released if a venomous snake does bite.
With that being said, these snake guards are not as sturdy as snake guard boots, so it is recommended that you wear these snake guards with long pants and, more specifically, thick jeans.
ForEverlast Snake Guard Chaps
The above snake guard chaps provide the ultimate protection from snakes when you're out and about in the wilderness or on the farm. These snake guards protect you from the ankle to the hips from snake bites, brush, thorns, and other sharp objects.
While they are primarily designed to protect against snakes, they are also waterproof and made to offer full protection from the elements. If you are planning on hunting, camping, or going on long hikes off the path, we would recommend considering these snake guards to include in your adventure bag.
V-Cheetong Snake Gaiters
The above snake guards are a boot design like many of the snake guards on our list, and they are designed with a patented polypropylene panel design that ensures full protection from your feet to your calves from venomous snake bites.
Some snake guards can be heavy, but these boots are designed to fit snug and wear comfortably. They are firm on your leg and will not fall or rub when you walk, which can lead to blisters and pain if you're hiking or hunting.
We also like that these snake guards include an "upgraded stab-resistant material" that not only protects against snake fangs and bites but also other sharp objects when you're out traversing through the brush and wilderness.
Knight & Hale Real Tree Snake Guards
While we do like all of the snake guards on this list, we know that pairs of heavy boots or chaps that go from your hips to your feet are not always right for everyone.
If you are looking for something a little more straightforward or easier to wear and travel with, we suggest the Knight & Hale Snake Guards.
These snake guards come in one size and are lightweight, easily removable, and adjustable. They can be clipped around your legs to protect you from snake bites and are made with polycarbonate, which is then covered by ballistic nylon for extra protection.
These types of snake guards are ideal for hot, humid environments and for those who are traversing through different types of terrain often.
However, we would not recommend these types of snake guards if you are looking for guards that are also waterproof.
JJZS Adjustable Snake Guards
We know that if you enjoy being outdoors, chances are you enjoy being outdoors doing different types of activities. Versatility is key with the above snake guards by JJZS. These snake guards can be used not only to protect you against snakes when you're out enjoying the great outdoors but they can also be used to protect you from the elements like snow and water.
However, we should note they are not 100% waterproof and are not designed for those looking to wade through streams or creeks on their adventures.
These snake guards are ideal for those who are avid hikers or those in need of some comfortable snake protection while working outdoors, hunting, camping, etc.
Razer Snake Gaiters
Last but not least, we have Razer Snake Gaiters. These snake guards are specifically designed for hunting and hiking, but they can be used for a multitude of other outdoor activities as well. They are made for both men and women and come in four color options.
Most importantly, they are designed to protect your legs at a 360-degree angle from venomous snake bites. They are made with 13 polycarbonate planes that are flexible, moveable, and lightweight so not only are these snake guards functional, they are comfortable.
Can You Make Your Own Snake Guards At Home

There are ways you can make your own snake guards at home.
It is possible to make your own set of snake guards or snake-proof chaps, though to be honest this process is time-consuming and requires a bit of dedication.
It's much easier to make snake guards to protect your home or garden from snakes, or to make snake guards to specifically protect certain areas around your home like your pool, crawl space, basement, or children's play area.
We will cover how to make your own snake guards below.
How To Use Wire Mesh To Make Your Own Snake Guards For Home Protection
You do always have the option of making your own snake guards when it comes to home protection or making barriers.
If you are looking to protect your home from snakes, the best snake guard to use is a 1/4th inch mesh fence wiring. Experts suggest you bury this wiring about a half-foot below the surface of the soil and then build it as tall as 30 inches. Allow it to slant outwards at a 30-degree angle for best results.
This type of snake guard or snake fence can be used to keep snakes from getting into yards, pools, basements, crawl spaces, and gardens.
It's important not to use a mesh fence that is has mesh wiring larger than 1/4th of an inch, as baby snakes will be able to get through the openings which, as we mentioned above, could be hazardous if they are venomous.
How To Make Your Own Snake Guard Chaps Or Pants
When looking into how to make your own snake guards at home, it's important you have a good idea of what material to use. The best material to make snake bite-proof chaps include Cordura nylon, kevlar, rawhide leather, or very dense denim.
Most experts recommend combing the above materials if you can and layering them up if you have them.
Make sure your fit is snug and that your homemade snake guards are tall enough to protect you at least above the ankle to below the knee.
Try Wearing Essential Oils
Some essential oils repel snakes, though they may not help save you from a bite if you accidentally trample on a snake. However, essential oils can help repel snakes when you use them along with other snake protective gear like snake guards, snake boots, and fencing.
Some of the best essential oils you can use to help keep snakes at bay are clove oil, eugenol oil, and cinnamon oil.
If All Else Fails, Layer Up!
If you're in a bind and need to get out in snake country, we suggest layering up as much as possible. Wear sturdy shoes like hiking boots or steel-toed boots that go up to ankle height at least. It's also important to wear long pants.
Jeans are usually best, and the heavier the denim is, the better. If you can, consider layering your jeans.
While rubber boots and snake guards are not one and the same, you can try wearing rubber boots over a pair of jeans with some nylon, leather, or polyurethane beneath them.
Remember, while it is rare for snakes to bite humans, they will bite if they feel threatened. You could accidentally threaten a snake by treading on one while outside in your yard or when hiking, camping, fishing, or hunting.
Not only will ensuring you have snake guards protect you when you're out and about, but so will ensure you know a few other measures to take when it comes to snake safety.
Keep reading to learn more.
Snake Safety and Prevention – Expert Tips and Tricks

Some snakes are more dangerous than others, which is why it's important to have a good snake guard plan in place.
Snakes may not be your most favorite animal, but these reptiles are incredibly beneficial to a healthy ecosystem. Furthermore, many snakes throughout the United States are protected. This means removing or getting rid of them is not always an option.
When you are outside of your house, and especially if you live in specific regions, you are at risk of running into a snake.
Here are a few tips and tricks from experts on several ways you can help keep yourself protected from snakes along with using snake guards.
Consider Snake Repellent
If snakes are commonly making their way onto your property, you might consider investing in a proper snake repellent. There are plenty of products you can purchase that help to repel snakes, including ultrasonic snake repellents, odorous snake repellents, powders, fencing, predators, and more.
Invite The Predators
And speaking of predators, one of the most effective ways to manage snakes naturally is to invite the predators that hunt them. Snakes have a multitude of natural predators, which include but are not limited to:
Foxes
Coyotes
Raccoons
Hawks
Eagles
Owls
And Mongooses
Stay On Trails and Avoid Going Off The Path
When you are outside of your property and you are enjoying all the beauties that Mother Nature has to offer, it's important to remember that you're also in snake territory. Keep your eyes open for snakes and make sure you avoid going off-trail.
This is especially true if you're not equipped with proper snake guards. While snakes can come out into the open to sunbathe during the day, it is much easier to see them on a path than it is to locate them in tall brush.
Keep Dogs On A Leash And Children Nearby
Dogs have a natural instinct to stay away from many dangerous things, but they do not have a natural fear of snakes. This makes dogs highly susceptible to venomous snake bites, and they are most at risk of suffering fatal consequences due to their smaller body size.
For this reason, it's best to keep dogs on leashes and with you on the trail. The same rule should also apply to small children.
Avoid Wearing Sandles Or Opened-Toed Shoes and Long Pants
If it's snake season, it's best to protect yourself whenever going outside. We suggest wearing close-toed shoes if you plan on rummaging around in your yard or garden and avoid wearing sandals or walking near long grasses with bare feet.
We also suggest wearing long pants or jeans. Remember, the heavier the jeans are, the more protection they will offer against snakes.
When Gardening, Wear Gloves And Be Vigilant
Snakes commonly seek out gardens because they are often filled with insects and other prey snakes like to feed on. When you are gardening, be sure to keep your eyes open and be aware of what you are grabbing.
To be safe, consider wearing long sleeves and thick gloves.
Remember That Some Snakes Can Swim
Some snakes can swim, and this includes the venomous rattlesnake. Be careful when near or in creeks, ponds, or streams, and avoid grabbing items that look like floating sticks or debris without taking a closer look.
Snakes Are Most Active During Early Morning And At Dusk
Last but not least, try and bear in mind when snakes are most active. Snakes commonly come out more often when it's cool, and they'll often be found out in the open sunbathing. Snakes are also most active during dawn and dusk, so avoid going on hikes or jogs if you are especially concerned about running into snakes.
Alright, now that you know all about the best snake guards and we've shared a few tips on how you can stay safe from snakes, we'd like to hear from you.
Would you ever consider making your own homemade snake guards? Share your thoughts with us in the comments!
Thanks for reading and stay safe out there!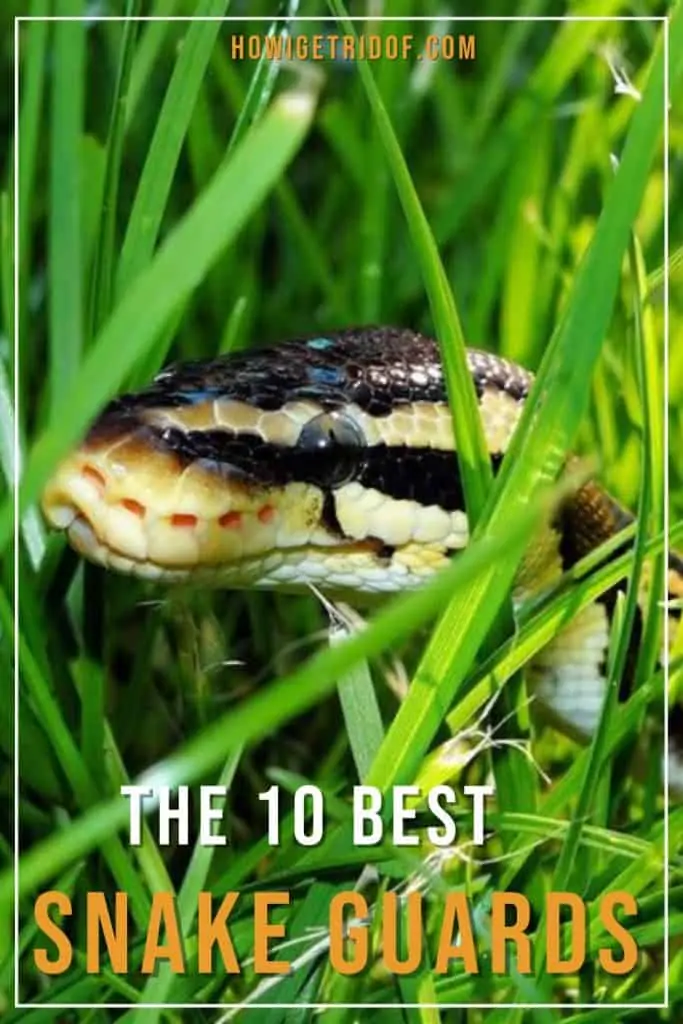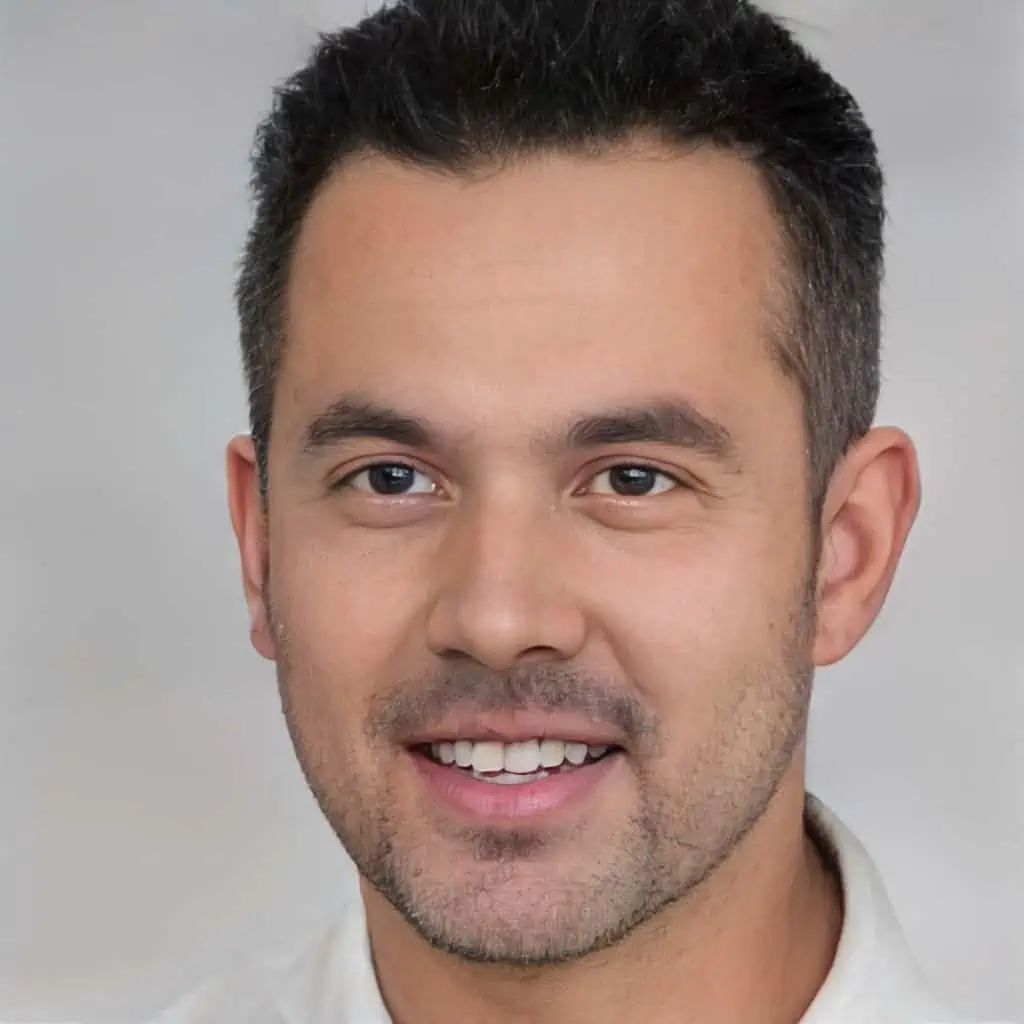 Jack founded our blog after two decades of working in the pest control industry. His vast experience dealing with a wide array of pests allows him to diagnose issues quickly and get to the heart of pest problems quickly and effectively. He has serviced more than 2,000 homes over his career and there is hardly any pest situation that he has not seen before.