Creeping Charlie?
It sounds like a character out of a horror movie, but in reality, this is a flowering plant in the mint family that is sometimes used for medicinal and culinary purposes.
However, for many gardeners and landscapers, Creeping Charlie can be a true nightmare. This insidious weed has a way of creeping into lawns and gardens and choking out all other plant life in its wake.
Are you dealing with the horror that is the Creeping Charlie weed? Then you've come to the right place.
Today, we are going to talk about the best Creeping Charlie killer products you need for your garden.
But First, What Is Creeping Charlie?

Creeping Charlie is a low-growing plant that produces blue-purple flowers during spring and summer.
Creeping Charlie goes by many names. Also referred to as gill-over-the-ground, alehoof, catsfoot, tunhoof, field balm, run-away-robin, or ground-ivy, Creeping Charlie is a perennial evergreen plant that belongs to the mint family.
Scientifically known as Glechoma hederacea, this fragrant plant was brought to the United States to serve as a ground-covering flowering plant in gardens. It has also been commonly used for medicinal purposes as well as culinary purposes to boot. Though Creeping Charlie does have many winning qualities, it is also incredibly difficult to control.
This edible plant can easily choke out other vegetation in your yard if not managed.
Though native to Europe and Southwest Asia, Creeping Charlie can now be found throughout most of the United States. The only states it is not commonly found in include New Mexico, Arizona, and Nevada.
These dryer states are not conducive to the weed's need for moist, shady areas. Still, it can thrive in sunlight and has even been known to invade garden beds, potted plants, and grassy lawns.
So, how do you identify this aggressively growing weed?
There are a few telltale signs and traits this weed has that will alert you as to what you are dealing with.
First, Creeping Charlie grows low to the ground. This is why it is considered a ground-covering plant. It produces brilliant green leaves that are rounded in shape and contain what many describe as "scalloped edges". There will be many leaves to a stem, and the leaves will grow opposite of one another.
Another defining trait of the Creeping Charlie is the blue or purple flowers it produces during the spring. These flowers sprout up beneath the green leaves and are shaped like small bells.
Being a part of the mint family, and considering this weed is edible and medicinal, it should come as no surprise it also has a strong smell. This is especially true if the plant is crushed or torn. The smell is aromatic and pleasant and smells of mint.
Creeping Charlie is often found growing beneath shady or partially shady areas like beneath trees or bushes. It begins growing in spring and continues to develop until fall. Flowers bloom in spring, but they are often gone by the end of June.
For some, Creeping Charlie is a delightful plant to have in their yard or garden. But for many, this aggressive weed can be a disaster.
And this is where Creeping Charlie Killer comes into play. Keep reading to learn more.
What Is Creeping Charlie Killer And How Does It Work?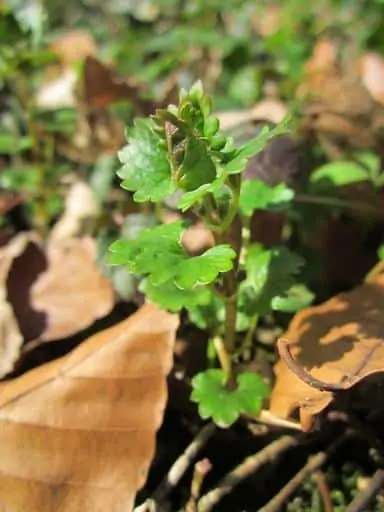 Though Creeping Charlie does prefer shady and moist conditions, it can thrive in sunlight and it spreads rapidly.
Now that we've introduced you to Creeping Charlie, it's time to talk about Creeping Charlie killer. Like most weed killer, Creeping Charlie killer comes in several different forms and varieties. There are chemical products and sprays you can use to control this weed and there are natural products and methods you can use.
There are also different treatments you can use depending on your specific situation. For smaller Creeping Charlie invasions, we recommend using spot-treatment methods and sprays. For full-blown lawn infestations, you may need to use a broad spectrum Creeping Charlie Killer that covers a much larger surface area.
You might also consider using a combination of methods to help you manage this problematic weed, as well as some DIY methods and preventatives.
And while there are many types of products that can work as Creeping Charlie killer, not all products are created equal.
What Are The Most Common Ingredients In Creeping Charlie Killer?
Regardless of what type of weed killer or herbicide you're looking for, you'll likely run into several of the same ingredients. The most common ingredients in herbicides include:
Fluazifop
2,4-D (2,4-Dichloro Acetic Acid)
Dicamba
Dithiopyr
Benefin
Plant Oil-Based Products
Glyphosate
MCPP
MCPA
Triclopyr
And Trifluralin
Each of the above active ingredients in herbicide work best for particular weeds. Some are pre-emergent, which work by killing the weeds before they sprout. Others are post emergents that work by killing the weed upon it being visible.
Both pre-emergent Creeping Charlie killer and post-emergent Creeping Charlie killer will be effective tools in your garden shed when it comes to controlling this annoying weed.
What To Look For In The Best Creeping Charlie Killer
When looking for the best Creeping Charlie Killer for your yard, it's important to look for a weed killer that has the name of the weed you're specifically trying to get rid of on the label. If you can't find the listed weed, at least make sure the weed killer is specified for the type of weed you are dealing with.
In the case of the Creeping Charlie, you should look for broadleaf herbicides that contain eitherTriclopyr, 2,4-D, MCPA, Dicamba, or MCPP. This will ensure that the Creeping Charlie Killer you're after is the right weed killer for you.
Chemical Creeping Charlie Killer Or Natural Creeping Charlie Killer? Which Is Best?
Herbicides can come in both natural and chemical forms and deciding which is right for you is going to depend on your unique situation or circumstance. There are pros and cons to using chemical products and pros and cons when it comes to using natural products.
If you're having trouble deciding, we have you covered. We have listed 10 of the best Creeping Charlie Killer products for you to consider below.
5 Most Popular Creeping Charlie Killer Products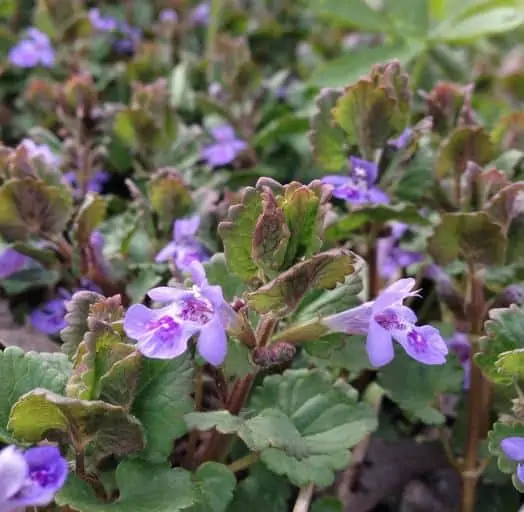 During spring and summer, Creeping Charlie produces purplish-blue flowers.
Regardless of if you're looking for a natural Creeping Charlie killer or chemical herbicide, it's important to get quality products you can trust to help you get rid of this annoying weed once and for all.
Doing plenty of research before choosing the product you want is key, as is ensuring the product has the name or type of the weed you're trying to target on the label. You might also consider reading reviews of others who have used the herbicide you are interested in in the past.
If this seems like a lot of work, don't worry. We have done the leg work for you. Take a look at the below five most popular Creeping Charlie killer products recommended by experts and consumers alike.
Ortho Weed B Gon Weed Killer Concentrate
First on our list of most popular Creeping Charlie killer is this Ortho Weed B Gon Concentrate. This product comes in a concentrated solution that is designed to be mixed with water and can treat up to 3,200 square feet.
Ortho Weed B Gon Creeping Charlie killer is ideal for large yard infestations of the weed, and can also work on a wide variety of other weeds including wild violet, clover, oxalis, and chickweed.
It kills the weeds to the root and, best of all, it will not harm your lawn or grass when used as directed.
Roundup Concentrate
Sale
Another concentrated Creeping Charlie killer is Roundup Concentrate. This product comes in a 32-ounce container and provides you with results in as little as 24 hours.
It kills weeds to the root and is effective against not only Creeping Charlie, but poison ivy, poison oak, poison sumac, invasive weeds and vines, and more.
This product does contain chemical ingredients that could be toxic to pets, children, and the environment. For this reason, it's important to use it only as directed and keep it out of reach of children and pets when it is not in use.
BioAdvanced 704170 Weed Killer for Lawns
BioAdvanced Weed Killer works against a number of broadleaf weeds like Creeping Charlie. It is also effective against dandelion, dollarweed, clover, and over 200 other types of pesky plants. It is rainproof for up to one hour after application and treats up to 8,000 square feet.
While this product is a highly effective Creeping Charlie killer, it does contain chemical ingredients that could be harmful to children, pets, and the environment. This weed killer also comes with a few restrictions and is not permitted for sale in California or Texas.
For the best results when using this Creeping Charlie killer, use it during weather that is between 50 degrees and 90 degrees Fahrenheit.
Southern AG Crossbow Specialty Herbicide
Southern AG Crossbow Specialty Herbicide is a broadleaf herbicide that works for a variety of difficult-to-control weeds, shrubs, and grasses. The product contains 2,4- Dichlorophenoxyacetic acid, as well as other chemical ingredients that are effective against Creeping Charlie but could also be hazardous if not used as directed.
For best results, use this product as a Creeping Charlie weed killer only as directed and keep it out of reach of children and pets.
Remedy Ultra Specialty Herbicide
Another Creeping Charlie killer we suggest is Remedy Ultra Herbicide. This product contains Triclopyr which, as we now know, is one of the most effective chemical ingredients against weeds like Creeping Charlie.
This herbicide also works against 35 common brush species and a number of other broadleaf weeds. It has a low odor and works by killing the weeds from the root up. It is safe to use around children and pets, though it is important you use this product only as directed.
We should also note that this Creeping Charlie killer has a 12-hour wait time, which means it is best to keep people and pets off of the treated area for this amount of time.
5 All Natural Creeping Charlie Killer Products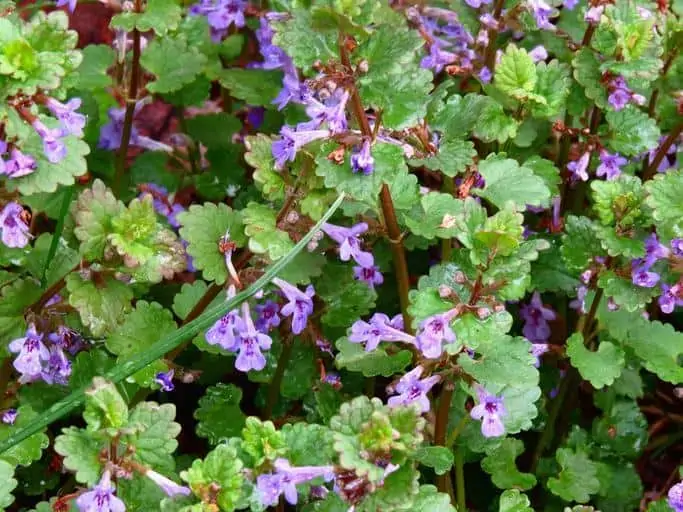 Though Creeping Charlie can be difficult to control, there are natural products you can use to help manage the weed.
If you would prefer to use all-natural products when it comes to Creeping Charlie Killer, then this is the list for you.
Some people may assume that natural products are not as strong as chemical products when it comes to killing and controlling Creeping Charlie, but this actually isn't the case. In fact, there are plenty of plant-based ingredients that work effectively against a number of weeds, and many of them are just as strong, if not stronger, than the types of chemicals in herbicides.
Best of all, many natural Creeping Charlie Killers are safer for the environment and less risky for people worried about using chemical herbicides around children or pets.
With that noted, keep in mind that even a natural weed killer is still a weed killer and it's important to continue to use these products only as directed and keep them out of reach of children and pets.
Green Gobbler 20% Vinegar Weed Killer
If you're looking for an organic and natural form of Creeping Charlie Killer, look no further than Green Gobbler. This product is an organic form of weed control that works on a variety of broadleaf weeds including crabgrass, white clover, moss, and Creeping Charlie.
You can use this product anywhere around your yard or garden barrier, and even use it along sidewalks, mulch beds, driveways, and flower beds. It is Certified organic and safe for the environment, making it ideal for organic gardeners.
Natural Armor Weed and Grass Killer Concentrate
Natural Armor is a trusted brand that makes both pest control products and lawn and garden care products. We like the above Creeping Charlie killer because it is made with all-natural ingredients and comes in a concentrated form and easy-to-apply applicator that connects directly to your hose.
The product is available in several sizes and even can be ordered for refills. It is free of Glyphosate and is all-natural, safe for the environment, and safe for children and pets.
It is effective against 250 different types of weeds and grasses and works within hours of application.
Just For Pets Weed Killer
If you have pets, you could very well be concerned about using any kind of chemical Creeping Charlie killer in your yard. This product listed above is specifically designed to be safe around pets and children. It is all-natural and free of Glyphosate or other chemicals that could be harmful to people and animals.
It is easy to use and works quickly to get rid of a wide variety of weeds and grasses. Plus, it comes pre-mixed and ready to use, so you don't need to mix it with water.
Energen Carolina Vinegar Weed and Grass Killer
Vinegar can work to kill a number of weeds and it is also a good natural Creeping Charlie killer. We especially like the above Vinegar Weed and Grass Killer because it is specifically designed to be an herbicide against crabgrass, dandelions, clover, and ground ivy such as creeping Charlie.
It is perfectly safe to use and is an organic product designed to be free of Glyphosate and other chemical ingredients that could be harmful to people and pets. You can use it around your home, in your driveway, in your yard, and in other areas where Creeping Charlie is sprouting up.
It comes concentrated and will need to be mixed. And while it is an organic and pet-safe, people-safe product when used as directed, it should be kept out of reach of children and pets.
Doctor Kirchner Natural Weed And Grass Killer
Last on our list is the all-natural weed and grass killer by Doctor Kirchner. This product comes in several sizes depending on the severity of your Creeping Charlie infestation, and it can be used to help kill and control a wide variety of broadleaf weeds.
It works using natural sea salt and is free of harmful chemicals like Glyphosate or other ingredients that could be hazardous to plants, pets, or children.
How To Make Your Own Creeping Charlie Killer Products At Home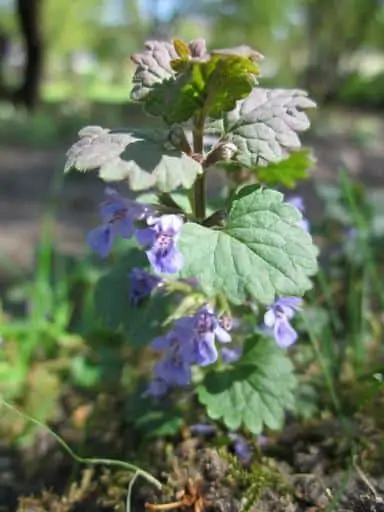 If you're in a pinch and you've caught Creeping Charlie early enough, you can use home remedies to manage it.
Looking for the best Creeping Charlie killer can be tedious and time-consuming, but you may be surprised to learn you have everything you already need in your pantry, garage or garden shed.
In fact, there are so many different home remedies for making your own Creeping Charlie killer that we couldn't list them all.
But here are some of our favorites that we have found to be most effective.
Hand Picking Creeping Charlie
Hand-picking Creeping Charlie is one of the easiest and most cost-effective methods you can use to get rid of the pesky plant. However, it is a time-consuming process, especially if you're yard is overrun with this weed.
Furthermore, Creeping Charlie can be irritating to the skin. If you plan to use this method, there are a few things you will need.
What You'll Need:
One Pair of Gardening Gloves
One Bucket or Trash Bag
1 Pair of Gardening Clippers
Instructions:
When you are hand-picking Creeping Charlie, do your best to pull the plant up by the root. If you simply trim the weed at the top it will just grow back and continue to spread. You can help get Creeping Charlie up by the root by loosening the soil as you go.
Most experts suggest you avoid pulling Creeping Charlie on windy days, as this could lead to the plants and clippings blowing away and spreading throughout your yard.
Starve The Creeping Charlie
Starving the Creeping Charlie sounds a little harsh, but it's much simpler than you think and it's actually quite effective. However, like some of these remedies for DIY Creeping Charlie Killer, this method could kill anything under the Creeping Charlie.
What You'll Need:
A Tarp, Newspaper, Cardboard or Plank Of Wood
Patience
instructions:
Starving out Creeping Charlie is an effective Creeping Charlie killer, and it works by simply covering the plant and removing any source of sunlight or water. This method can take several days, but it generally works well. However, keep in mind that anything under the tarp, wood, or newspaper will also be starved, so use this method carefully.
DIY Creeping Charlie Killer Spray
This simple method for making your own Creeping Charlie killer is so effective that you'll need to be careful. You won't want to use this method directly on grasses or lawns, or if your Creeping Charlie enemy is growing directly in or near garden plants.
The vinegar and Epsom salt can harm your lawn and other vegetation, so keep this in mind.
What You'll Need:
3 Cups of Vinegar
32 Ounce Spray Bottle
½ Cup of Epsom Salt
Instructions:
Combine the above ingredients into your spray bottle and spray the solution over the Creeping Charlie. Avoid doing this on a windy day so as to avoid getting extra spray on neighboring vegetation or ornamental plants.
This process works on a variety of weeds from Creeping Charlie to Dandelions to Crabgrass. Wait a few days after spraying and repeat the process if needed.
Make A DIY Creeping Charlie Killer Using Borax
If you're looking for an all-natural Creeping Charlie Killer, you may be in luck when it comes to this Borax and water solution listed below. This recipe is not only super easy to make but it is highly effective and covers a pretty good surface area of your yard.
What You'll Need:
4 Ounces of Warm Water
2 1/2 Gallons of Water
One Five-Gallon Bucket
Instructions:
First, combine the warm water and the 10 ounces of Borax in a clean five-gallon bucket, and mix the solution until the Borax is completely dissolved. Then add the 2 1/2 gallons of water.
If you have a garden sprayer, you can use this to cover a large surface area of your yard at one time. The above combination is designed to cover up to 1,000 square feet.
If you do not have a garden sprayer, you can pour what will fit into a spray bottle and spray and repeat as needed until the solution is gone.
For best results, repeat this process in two weeks.
Pour Boiling Water Over The Weeds
Last but not least, you can always try the effective method of pouring boiling water over the Creeping Charlie in your yard. This method can be quite effective, but it may need to be repeated several times in order to ensure you kill the plant at the root.
We should also note that this method can be a bit dangerous. If you're looking to use this as your method for Creeping Charlie Killer, we suggest using a kettle to transport the boiling water and ensuring children and pets are not nearby.
Tips For Keeping Creeping Charlie At Bay In The Future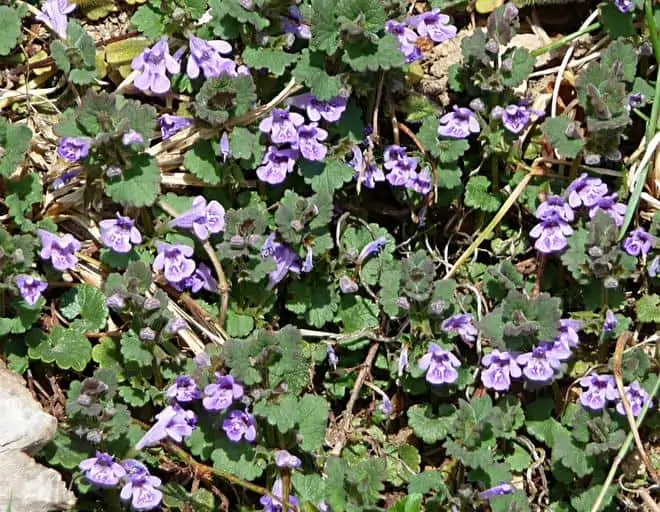 Creeping Charlie can be a challenge to manage and control, but it is possible.
Creeping Charlie is not only annoying, but it can be a natural skin irritant to many people. Furthermore, it is known for spreading rapidly and taking over large areas of your lawn in a small amount of time.
As with any form of weed control, it's easiest to manage Creeping Charlie by staying proactive.
While you might not be able to prevent it 100% of the time, by following a few of our expert tips and tricks below you should be able to manage this weed to where if it does crop up, you'll be able to get rid of it much more effectively.
Keep Your Lawn Healthy And Well-Fed
A healthy lawn is your first defense against weeds, regardless of which weeds you're trying to get rid of or prevent. Keep your lawn healthy and well-fed by investing in quality fertilizer and watering your lawn appropriately.
Remember, you don't want to overwater, but you don't want to underwater either.
Don't Mow Your Lawn Too Short
Mowing your lawn short can help to keep certain pests away, but mowing it too short can lead to a higher chance of dealing with weeds like Creeping Charlie.
Longer grasses help to shade the soil, which will reduce the sunlight Creeping Charlie seeds need in order to germinate and thrive. So let that grass grow a little longer than usual.
Fill-In Bald Spots And Dead Patches Quickly
Any bald spot or dead spot in your yard or garden is an open invitation to weeds like Creeping Charlie. To avoid these weeds, do your best to fill these spaces and cultivate healthy lawn growth.
Keep Your Lawn Thick By Overseeding Each Year
A thick, lush lawn will certainly keep Creeping Charlie at bay. For this reason, we suggest overseeding annually to help ensure your grass is abundant and that Creeping Charlie has no room to "creep" in.
And there you have it – the 10 best Creepin Charlie killer products! Now we want to hear from you. Would you prefer to use a natural herbicide to get rid of this annoying weed or a chemical herbicide?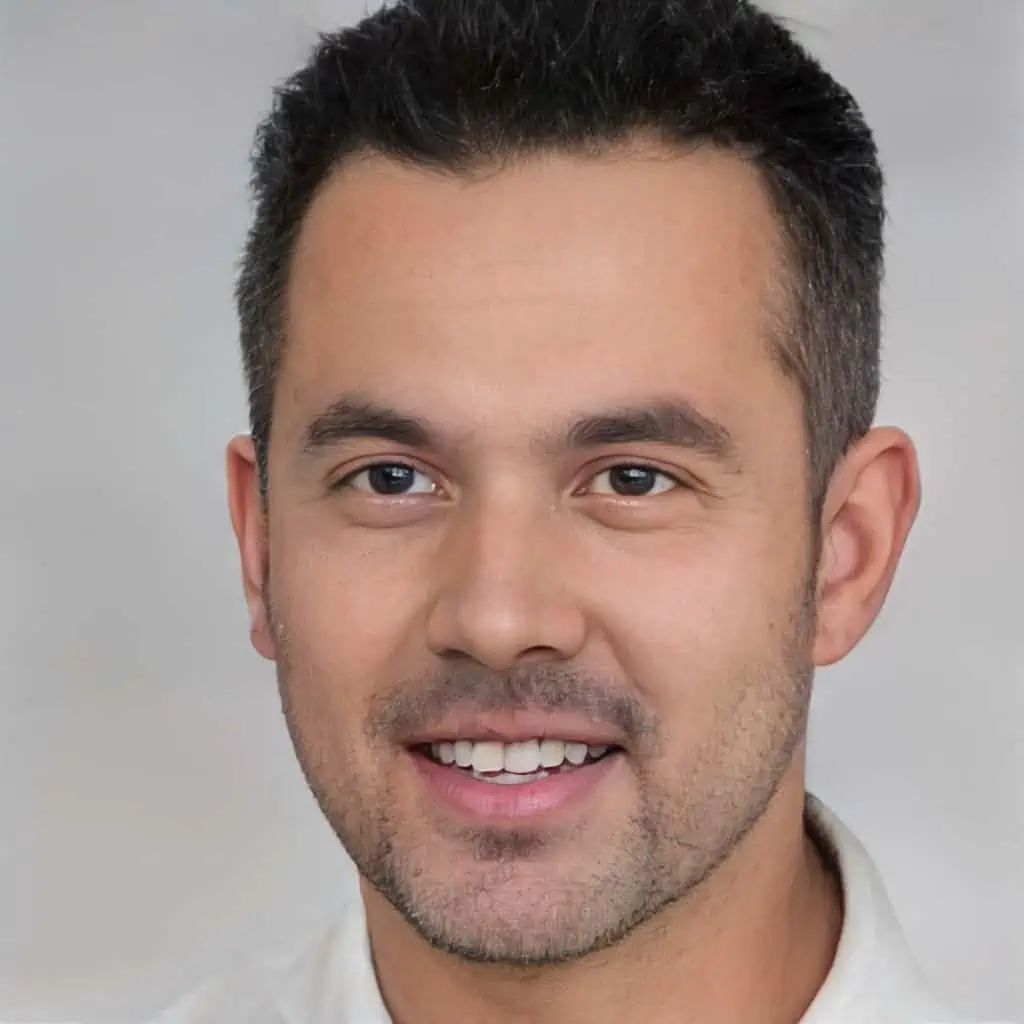 Jack founded our blog after two decades of working in the pest control industry. His vast experience dealing with a wide array of pests allows him to diagnose issues quickly and get to the heart of pest problems quickly and effectively. He has serviced more than 2,000 homes over his career and there is hardly any pest situation that he has not seen before.