No matter where you live in the United States, ticks are a problem. These blood sucking parasites target animals and people, and can be vectors of very serious diseases like lyme disease and Rocky Mountain spotted fever.
And while spring and summer time tend to bring more ticks from the woodwork, it's important to remember that ticks are not truly seasonal pests. In fact, they can be problematic all year round, which means outdoor enthusiasts and pet owners must be vigilant at all times when it comes to protecting themselves and their four legged friends from these creepy critters.
Some of the best insect repellent methods of old required harsh chemical sprays and messy ointments, but these days, there are plenty of all natural tick repellent remedies proven to work.
Today, we are going to talk about how you can protect yourself, your home, your garden, and your pets from ticks all year around by using safe and natural products and remedies.
What Is Natural Tick Repellent And How Does It Work?
Natural insect repellent products are products that use all natural, plant-based ingredients to repel ticks and other pests safely.
That said, just because something says it is all natural does not mean it is completely safe. Some natural, plant based ingredients can still be harmful to pets and people, like the natural insecticide known as pyrethrum, which is a chemical derived from chrysanthemum plants.
Pyrethrins, the natural ingredient found in pyrethrum, is highly toxic to dogs and cats, which is why pet parents need to be extra vigilant when looking for safe, natural tick contorl repellents for their homes, gardens, and pets.
Luckily, there are plenty of other plant-based products that work well to naturally repel ticks and fleas and that won't cause harmful reactions or side effects like insecticides.
But do natural tick repellents really work as effectively as insecticides?
Like most things in life, there are pros and cons to using natural insect repellent products, and it's up to you to decide whether insecticides or natural repellents are best for you and your family.
Let's learn more.
What Is DEET And What Is Permethrin?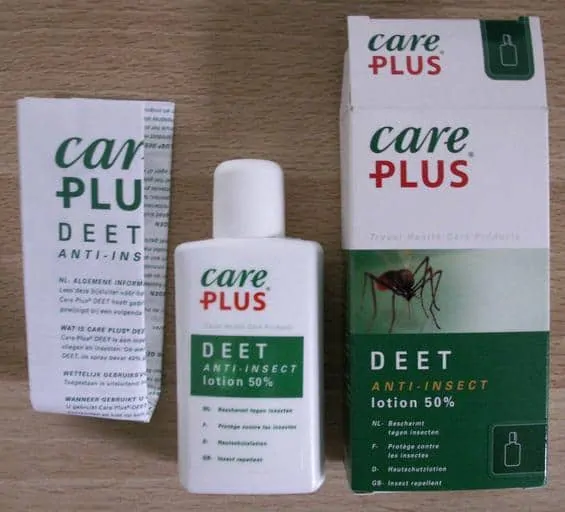 Deet is a common ingredient in many insect repellents and sprays. 
DEET, also known as N, N-Diethyl-meta-toluamide or diethyltoluamide, is a common active ingredient used in many insecticides and has been a proven and effective tool to repel a number of insects from mosquitoes to ticks.
There are plenty of controversies surrounding DEET and it's overall safety for both people and the environment. That said, it is one of the most effective methods of repelling ticks. However, DEET does not kill ticks, like it's counterpart Permethrin does.
We touched on permethrin briefly above. Permethrin is a natural chemical insecticide derived from chrysanthemum plants and is highly effective in repelling and killing ticks. However, it is just as controversial as DEET and can be equally as risky to pets, people, and the environment if not used properly.
On the other hand, natural insect repellents (not insecticides), are generally both effective and safe for people, pets, and the environment. However, they may not be as effective or as long lasting as products using DEET or Permethrin.
Let's take a look at some of the pros and cons of using a natural insect repellent versus an insecticide.
Deet Vs. Permethrin Tick Repellent – Pros And Cons

Insecticides use chemical ingredients that can be harmful to humans, animals and the environment.
DEET Pros
Considered one of the best active ingredients for repelling mosquitoes
Can be applied directly to the skin
DEET products are easy to find and generally inexpensive
DEET Cons
DEET has an unpleasant odor
It is controversial and can be harmful to humans, pets, and the environment if not used properly
Can cause damage to clothing and synthetic fibers.
Does not kill ticks, only repels them.
Permethrin Pros
Permethrin has no odor once it is dry
It kills and disables ticks
It is longer lasting than DEET and can work for several weeks
Permethrin Cons
It can be toxic and should not be applied directly to the skin
Permethrin can be harmful to pets, people, and the environment
It may be more expensive than other insecticides and may be more difficult to find
It is highly toxic to fish
Best Natural Tick Repellents For Humans

Ticks bite both humans and animals and can cause serious disease. 
Because ticks can lead to a number of serious and even deadly diseases, it's very important that you protect yourself, your family, and your pets against them.
Natural insect repellent products are not only a safe and effective way to keep yourself safe from these parasites, but they also smell great and can have a calming effect on your mood! Some of these natural insect repellents below are even good for your skin.
Take a look!
Cedarcide Ticksheild Insect Repellent
This insect repellent is a three-in-one, which we really like. It uses natural ingredients to repel ticks on people, pets, and in the home.
We like that it's a simple, natural one-and-done spray you can use pretty much anywhere to help repel ticks naturally using cedar oil. It kills and repels ticks in all life stages and works to protect against fleas, ticks, mosquitoes, mites, and ants. It is stain free as well, which is great for when using around the home.
Wondercide Natural Insect Repellent
Wondercide is a popular product for those of you looking for an insecticide-like spray that is completely free of harsh chemicals. Specifically formulated to be safe and gentle on children and infants, this formula is made free of DEET and other harsh chemicals and can also be used on pets.
It uses food grade ingredients to kill and repel fleas, ticks, mosquitoes and more. It will need to be applied each time you or your children want to go outside in order to be effective.
Yaya Tick Ban Flea Repellent
We love plant-based ingredients, and that's why Yaya Tick Ban is one of the natural insect repellents that tops our list. It is free of DEET and other harsh chemicals typically found in insecticides and instead uses organic essential oils like soybean oil, peppermint oil, as well as rosemary, lemongrass, thyme and more.
This insect repellent is specifically designed to protect against ticks and can be used on the whole family from adults to children to pets.
Best Natural Tick Repellent For Pets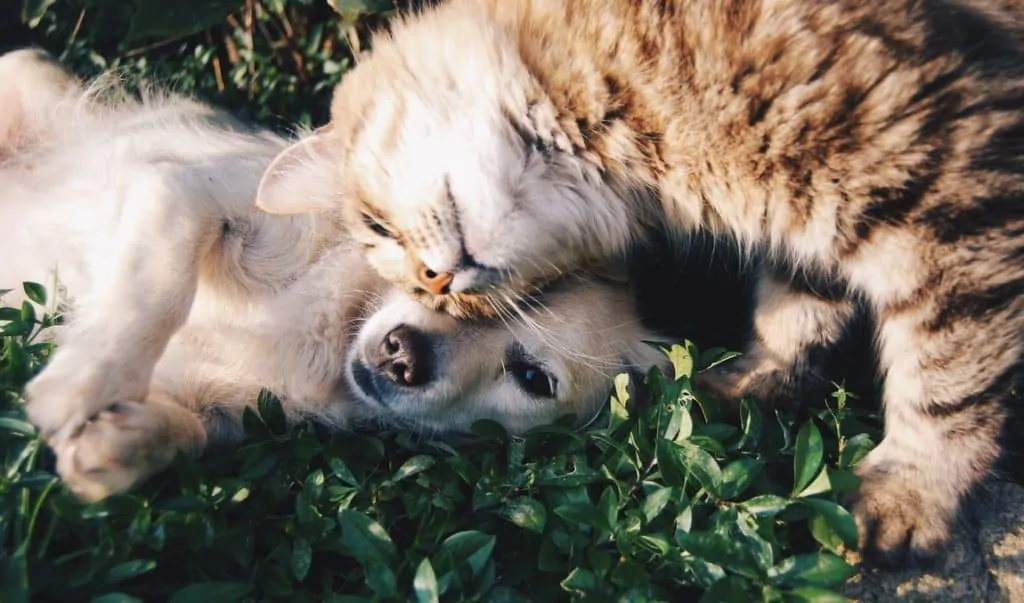 If not protected, dogs and cats are often the victims of ticks.
Dogs and cats are some of the most common victims of ticks, since they are often the ones running around in a tick's natural habitat. For this reason, many veterinarians recommend year-round tick and flea protection for dogs and cats.
Some pet owners opt to buy their pets flea and tick collars. Others use oral treatments or ointments that are long lasting and effective.
However, if you prefer to protect your pet naturally with a natural tick repellent, we have you covered. Below are some of our favorite natural insect repellent products specifically for pets.
YAYA Organics Dog Whisperer Flea Repellent For Dogs
This organic flea and tick repellent works by combining completely plant-based ingredients like cedar oil, peppermint, rosemary, lemongrass, geranium, thyme, castor oil and soybean oil to help keep your pets safe from these blood sucking parasites.
Since this repellent is completely DEET free, it comes as no surprise it's safe for humans and children! We love that you can order it in two different sizes and that it also has a pleasant scent.
The directions are simple – you just spray it all over your pet carefully, focusing on the belly, legs, ears, armpits, and tail. Remember, you do need to apply this product every time your pet goes outside for it to be effective.
Mdxconcepts Zuba Flea and Tick Control Spray
No products found.
Another completely natural repellent spray for pets we like is made by Mdxconcepts. Like the above spray, this tick repellent uses natural essential oils to help repel ticks and keep your dogs and cats happy and healthy while playing outside.
It not only repels ticks and fleas but also kills them on contact. You can also use this spray to repel flea larvae, flea eggs, and mosquitoes.
Vet's Best Flea and Tick Spray For Dogs And Home
You can use this flea and tick spray by Vet's Best for both your dog and your home to help prevent and eliminate flea and tick problems. It works to kill ticks, fleas, flea eggs and larvae, and even mosquitoes using all natural oils like peppermint and eugenol oils, which are completely natural and safe.
We also love that you can spray this plant-based tick repellent on your carpets, upholsteries, and furniture to help keep them free of pests. This spray is even safe enough to spray inside your pet's carrier and on their bedding and toys.
Best Natural Tick Repellent For Yard

Most pets and people pick ticks up outside, so yard protection against ticks is important.  
Contrary to popular belief, ticks don't live on their host. When they are done feeding, they leave and head back to their natural habitat, which is usually a grassy or wooded area.
For this reason, an important part of tick prevention is making sure your yard and garden are protected against these pests.
Below are some of our favorite natural insect repellent products for your yard and garden.
Vet's Best Flea and Tick Spray For Yard
Vet's Best makes our list again for some of the best natural tick repellent, although this time it's specifically for the yard. We love that it's specifically formulated with natural ingredients to help repel and kill ticks while also actively keeping our pets, family, and the environment safe.
Using plant-based ingredients and natural oils, this tick repellent reaches up to 5,000 square feet and kills fleas, flea larvae and eggs, mosquitoes and of course, ticks.
Natural Chemistry Yard And Kennel Tick Repellent
This natural tick repellent kills on contact and doesn't harm your garden or yard and won't seep through the ground and contaminate your water supply. It uses all natural ingredients like clove oil, cedar wood oil, and cinnamon oil to repel and kill fleas and ticks, so it's safe to use around pets and children.
It can cover up to 4,500 square feet and is completely free of any harsh ingredients like DEET or pyrethrins that can be harmful to our families, pets, and ecosystem.
Wondercide Natural EcoTreat Tick Repellent
We love that Wondercide also makes an outdoor tick repellent that both kills and repels ticks using natural, plant-based ingredients. It's safe enough to spray and go, meaning you don't have to make your kids or pets wait to go outside and play after a treatment.
We also like that this product covers up to 10,000 square feet, so it's an excellent tick repellent for those of you with larger lawns to cover. It's also safe to use around the perimeter of your home and in areas where people eat, like patios, picnic areas, vegetable gardens, and more.
Diatomaceous Earth DE10 Food Grade Powder
Diatomaceous Earth is one of our favorite natural tick repellent remedies because it uses fossilized algae in the form of a fine powder to kill and repel not only ticks, but also a number of other pests like spiders, roaches, bed bugs, and more. It penetrates the exoskeleton of these pests and dehydrates them from the inside, killing them.
While this is a safe and organic way of repelling ticks and other pests in the yard and garden, it does need to be reapplied often, and especially when your yard or garden has been exposed to moisture.
That said, this is a completely safe tick repellent to use in gardens and yards where children and pets play.
Tick Repellent Home Remedies

Many people already have the ingredients necessary to naturally repel ticks.
There are a number of household ingredients and essential oils that repel and keep ticks away naturally. If you want to know how to make your own tick control remedies at home, check and see if you have any of the following ingredients.
Rose Geranium
Sweetgrass
Citronella Oil
Tea Tree Oil
Peppermint Oil
Cedar Oil
Eucalyptus Oil
Neem Oil
Apple Cider Vinegar
Garlic
Cinnamon
Lavender
Lemons
And Oranges
You can combine a number of the above ingredients to make an effective and natural tick spray or repellent for your home and family. Some ingredients can be used on their own, like cedar oil and neem oil.
Still, if you need some ideas for tick repellent recipes, we've listed a few of our favorites below. Take a look!
Essential Oil Tick Repellent Recipe
9 drops Tea Tree Oil
9 drops citronella oil
6 drops peppermint oil
1 tablespoon of almond oil
Mix together and massage into skin before going outside.
Eucalyptus Oil And Water Tick Spray Recipe
4 ounces of distilled water
20 drops of eucalyptus oil
1 spray bottle
Combine in a spray bottle, shake, and spray. Once diluted, you can use this concoction on pets, children, skin, and even on pants and shoes.
Apple Cider Vinegar And Neep Oil Spray
2 cups of water
2 tablespoons Neem oil
4 tablespoons Apple Cider Vinegar
1 spray bottle.
Mix together in a spray bottle and shake. You can use this mixture on skin, clothing, and furniture.
Curious for more?
This video gives you a step-by-step guide on how you can make an easy and all natural tick spray at home.
<iframe width="560″ height="315″ src="https://www.youtube.com/embed/Xq5eajHo6No" frameborder="0″ allow="accelerometer; autoplay; encrypted-media; gyroscope; picture-in-picture" allowfullscreen></iframe>
Natural Tick Repellent Vs. Insecticides – Pros And Cons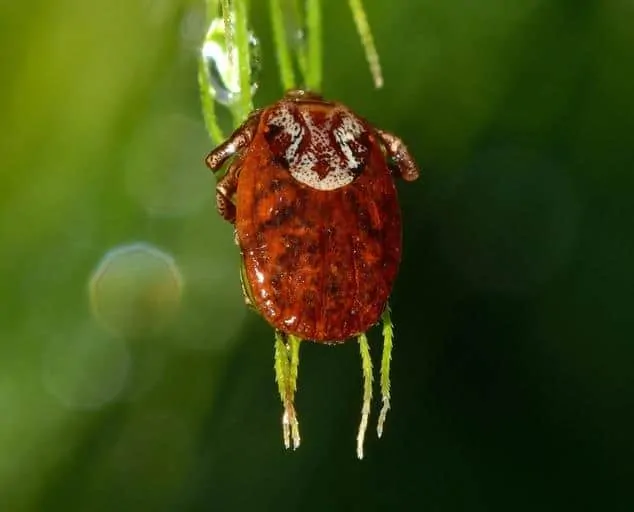 Not all natural remedies work as well as insecticides. 
Natural Tick Repellent Pros
Natural repellents are derived from ingredients that are safer for the environment
Natural repellents don't leave harmful residues in food, water, soil, and air.
Natural tick repellents are less risky to human and animal health
Natural Tick Repellent Cons
Natural repellents may not last as long as insecticides
Natural tick repellents require more maintenance and repetitive applications
Natural repellents may be more expensive and harder to find than insecticides.
Insecticide Tick repellent Pros
Insecticides may be longer lasting than natural repellents
Insecticides are generally inexpensive and easy to find
Insecticide Repellent Cons
Insecticides can kill beneficial insects and organisms
Insecticides can harm the environment and contaminate our food and water supply
Insecticides can lead to higher risks of chemical poisoning and can be toxic to humans and pets
The Truth About Ticks – Everything You Should Know

Ticks may be small, but they can be quite dangerous. 
Ticks are pretty horrible and are usually not the most pleasant topic of conversation, but it's important to educate ourselves on these creepy crawlies, especially considering they can be a real danger to us and our pets.
As the weather warms up, ticks come out, so let's take a few minutes to go over some fast facts you should know about ticks.
You read that correctly. Ticks are not insects but are instead in the arachnid family.  Yes, the same family as spiders. And like spiders, ticks do have their place in the ecosystem by providing an important food source to other foraging animals and even offering a method of population control to their blood hosts. Which, unfortunately, sometimes includes us.
Not All Ticks Spread Disease
Did you know there are thousands of species of ticks across the world? By comparison, there are only a few species of ticks that carry serious diseases. The most common disease carrying ticks in the United States are the American dog tick, the blacklegged tick, and the brown dog tick.
Ticks Can Spread More Than One Disease At A Time
So, while not all ticks carry diseases, the ones that do can carry multiple diseases at once, which means they can infect their host with several diseases at the same time. Imagine getting Lyme disease, babesiosis, and anaplasmosis all at once. Excuse me while I go stock up on all the repellent.
The Best Way To Remove Ticks Is With Tweezers
Sorry, grandma. Drowning a tick in petroleum jelly won't work to remove it. You also shouldn't try methods like nail poish remover, gasoline, or alcohol, because you're simply wasting your time. Ticks are too busy drinking your blood to care about your smothering methods, and they can survive a long time without air anyways.
The best way to remove a tick is to use tweezers and to get as close to the skin as possible. Once you have the tick, slowly pull it out of your skin. If the tick loses its head in your skin, don't worry. It will either dissolve or work its way out later. You may decide to keep the tick and seal it in a plastic bag to have it identified by a doctor if you are concerned about disease.
A Tick Can Latch Onto You For A Few Days
Ticks don't eat and run. They like to take their time and enjoy their meal, which means you or your pet could be carrying around a tick for a couple days or more. The moment you notice a tick on you or your pet, it's important to remove it immediately using the tweezer method above.
Not Every Tick Bite Will Lead To Disease
Although Lyme disease is on the rise in the United States, being infected with a tick-borne illness is still rare. In fact, studies suggest that between 1% and 3% of people bitten by a tick will come down with some kind of tick-borne disease, so don't panic if you are bitten. That said, you can always contact your doctor for suggested preventative care if you are concerned. If you do begin to feel ill and come down with flu-like symptoms within a few days to a few weeks after being bitten, it is best to seek medical attention and let your doctor know you were bitten by a tick.
What do you think? Are natural tick repellent remedies the way to go when it comes to tick control methods? We would love to hear from you. Leave us your thoughts in the comments below.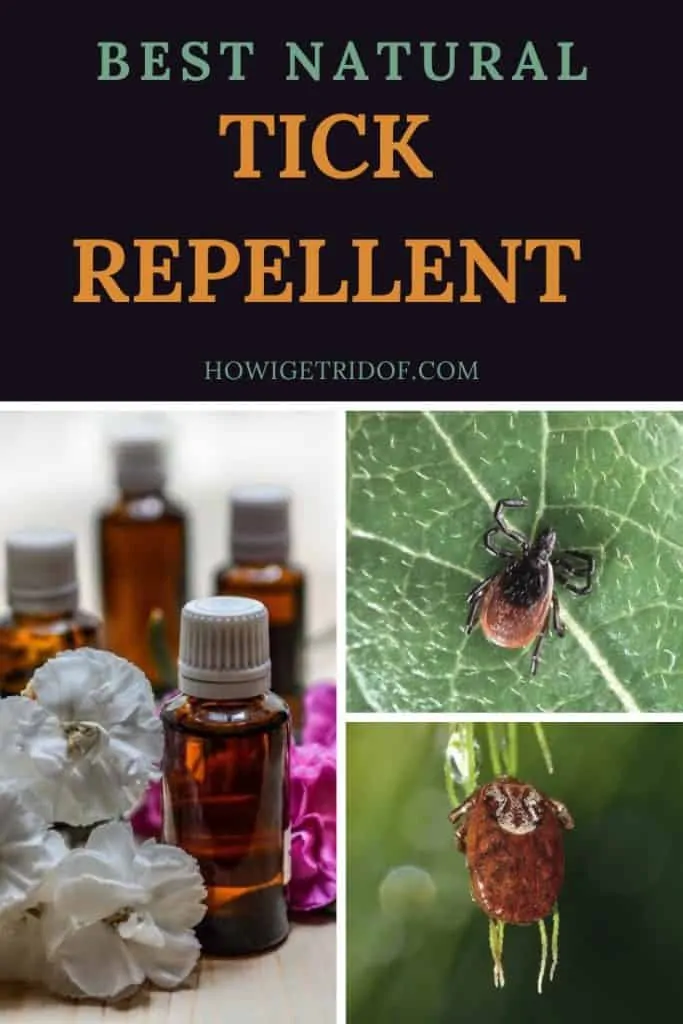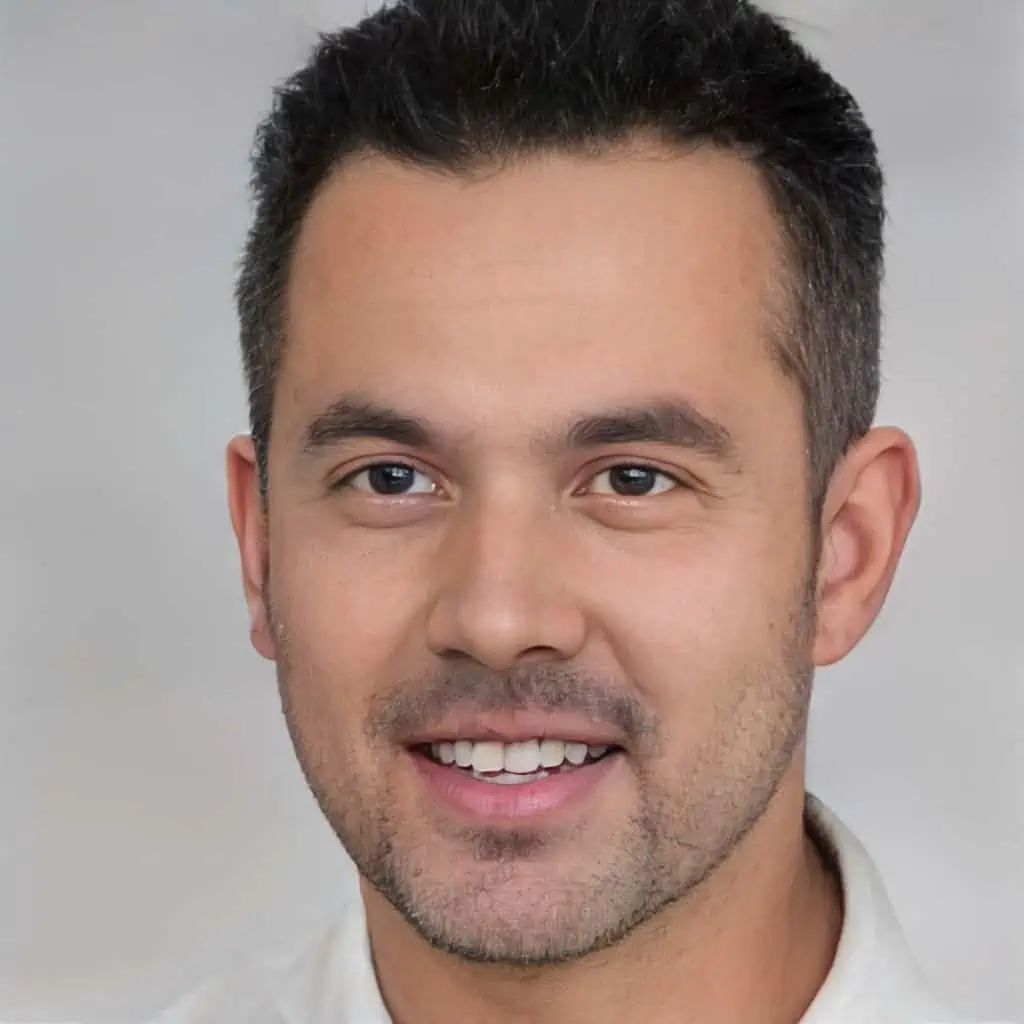 Jack founded our blog after two decades of working in the pest control industry. His vast experience dealing with a wide array of pests allows him to diagnose issues quickly and get to the heart of pest problems quickly and effectively. He has serviced more than 2,000 homes over his career and there is hardly any pest situation that he has not seen before.